Restaurant Daily Deals (check these out on a regular basis)
Bringing a slice of New York to Liverpool, Central Perk pays homage to legendary US sitcom Friend with two locations, Liverpool & Chester. Friends fans can take a seat amongst the inspired surroundings and sip on any of the coffees from the menu, all while nibbling on a piece of cake (£3).
A replica of the famous hangout from Friends, Central Perk aims to replicate the style, layout, and menu at locations in Liverpool and Chester. Much like the show, there are open mic shows and film nights, and the decor, from the chairs to the tables, are also instantly recognisable, except this time without Chandler and Phoebe lounging in them. Coffees include the NY Classico, made with cinnamon syrup, and the Ms Liberty Blend with caramel syrup, espresso, and chocolate shavings
87 Battersea Rise, London, SW11 1HW
24 Market Building,
The Piazza,
London, WC2E 8RD
Ed's is a much loved retro-American diner that successfully captures the spirit of the classic US originals, iconic symbols of an unforgettable period in the history of that country. It was a time characterised by a feel-good, optimistic mood that influenced the music, the design and the culture of a unique era. Ed's brings that 50's story to life, at the same time delivering a quality eating experience at great value prices.
Customers can relax at a booth or table and enjoy the great Ed's service, or sit on a stool at the counter equipped with genuine restored 'Dime-Selector' juke boxes where they can select their favourite hits from the 1950's. And, as at all great American diners, watch the food being prepared in the open kitchen right in front of them.
We have tried to select restaurants in London that might appeal to the teenagers amongst us and if you know of any cool places to eat, then please send us the details. We also want to hear from others around the country.
Planet Hollywood, the world's one and only dining experience inspired by the glamour of Hollywood, was launched in New York on 22nd October 1991. This innovative restaurant chain was launched with the backing of Hollywood megastars Sylvester Stallone, Bruce Willis, Arnold Schwarzenegger and Demi Moore.
Planet Hollywood London enjoyed a 16 year stint based in the Trocadero centre in London's buzzing Piccadilly circus. However all good things must come to an end and at the beginning of 2009, it was decided that it was time to move on, it was time for Planet Hollywood London to evolve! So following in the footsteps of the Planet Hollywood resort and casino in Las Vegas, the logo was changed and Planet Hollywood moved into its new home on the Haymarket (only a two min walk from the Trocadero centre).
Planet Hollywood, now boasts a large cocktail bar, along with many other themed areas, such as the Bond room, the British room and our trendy Cabana room. There are still lots of favourite pieces of memorabilia, among them Ursula Andress bikini from the iconic film, Dr No, R2D2 from the classic Star Wars films and much much more.
Whether dining with friends, family, colleagues or clients, Planet Hollywood is an ideal venue for large or small groups, with parties easily accommodated, for either lunch or dinner.
Bill Wyman's Sticky Fingers Restaurant
Born in 1989 to legendary Rolling Stones rocker, Bill Wyman. Sticky Fingers Café was aptly named in tune to the infamous album released by the band and was the concept of Bill Wyman's idea of what kind of restaurant he enjoyed and London should have some it too.

This haven of good times, great food, and original Stones memorabilia continues to provide an enviable environment for eating, drinking, and having fun.

Bill Wyman's Sticky Fingers remains one of London's favoured restaurants serving award winning burgers, great tender steaks, and the best ribs in London . The service is always friendly and welcoming testifying that Sticky Fingers is even stronger today than the trend it started many years ago.
The fabulously refurbished 5th View cocktail lounge and cafe on the 5th Floor of Waterstone's Piccadilly, the largest book store in Europe, is the perfect meeting point for those visiting The Royal Academy, Fortnum and Mason, St James' or Bond Street.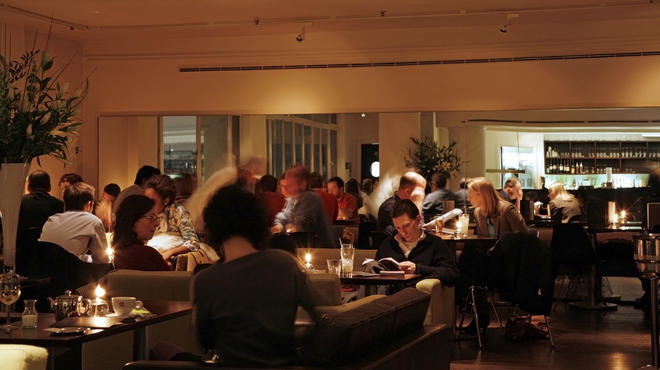 Standing on Old Park Lane since June 14th 1971, this is the one that started it all. The brainchild of Isaac Tigrett and Peter Morton, the cafe attracted customers from day one with first-rate, but moderately priced, casual American fare (available no-where else in London or the UK at the time), warm service and ubiquitous Rock 'n' Roll music and sensibility - Hard Rock Cafe London became an instant classic.
Back in 2002 Andre Blais had a dream - to bring the taste, the style, the soul of his beloved Kansas City barbecue to London town.
10 years later, the Bodean's family of diner-delis goes from strength to strength - the result of a tireless team effort dedicated to living the dream.
Maxwell's is a vibrant, high energy restaurant and bar set over two floors in the heart of Covent Garden.
Designed to appeal to all tastes; good quality grill classics, prime-cut steaks, fresh fish and huge salads – freshly prepared and served up at reasonable prices.
The bar adds an innovative list of 50-strong cocktails to its mix of fresh fruit drinks, premium beers and spirits, champagnes and World wines
Belgo is a small chain of London restaurants specializing in simple Belgian cooking and Belgian beer. Belgo is noted for its arresting 1990s design and architecture, including kitchens viewable by customers entering the restaurant (Noord and Centraal), and its waiting staff who dress as monks.
You are about to live an unbelievable experience: eating and drinking in the pitch darkness.

This idea might seem a little strange at first, but by suppressing the dominant sense of sight, you will enter a world in which one is uncertain of surroundings and experiences.
Bibendum is set in the old Michelin Building and the mood is informal, with tiles and pictures depicting great races of the past, and the mood is relaxed, luxurious but not pretentious. There is little need for an excuse to visit – whatever the occasion, there's always a good reason. A quick glass of wine with or without a nibble; an after-work cocktail; a lunch of half a dozen oysters and a glass of champagne; or a leisurely lunch or dinner with a vast plateau de fruits de mer, dessert, cheese and coffee.
Enter a world of drama, passion and excitement where exuberant colour, glittering display and joyous music meet exotic cuisine to create a truly unforgettable dining experience.
Undoubtedly the place to see and be seen in Drury Lane, Sarastro offers a unique and opulent carnival of the senses that gladdens the heart, delights the eye and captivates the soul. So why not visit Sarastro soon and experience its magic for yourself?
Remember, the only thing you can expect is the unexpected!
At Adventure Bar with 4 London locations, we are obsessed with showing you the best time possible, regardless of the day of the week, or the time. We have taken an oath to provide you with great quality cocktails in the most fun atmosphere you can find in London, and that's exactly what we are doing!
The only thing you aren't going to find in Adventure is pretension! Play the video now to get a taste of what you will find when you visit us. We all love a great story from the night before and at Adventure, every cocktail adds to the story….
House of Wolf is a multi-functional, multi-sensory experimental pleasure palace, dedicated to the creative pursuits of dining, drinking, art and entertainment.
Featuring the UK's first-ever permanent series pop-up chef residencies, the venue showcases some of the most exciting chefs and culinary artists in the country. Each with an individual style, the impressive roll call of chefs submerges patrons from the moment they sit, and ensures a unique and memorable experience on each visit. Dining takes place on the 1st and 2nd floors in both the Attic Room and Parlour, with the latter available for private dining and with an option of additional bespoke entertainments.
Those wishing to partake in a tipple or two can venture to the 1st floor Apothecary Bar, serving up experimental elixirs and featuring a cocktail list designed to indulge the fun and theatrical side of patrons. Alternatively, residents can kick back in the Wolf Den or enjoy the Music Hall which in addition to cocktails, offers a fully stocked bar featuring premium spirits, wines and beers.
To accompany these gustatory pleasures House of Wolf, in a nod to its music-hall heritage, presents a fantastic programme of creative events throughout the week for discerning adults with an appetite for inspiration and ingenuity. From literary salons and creative workshops to high profile music-led club nights, fun-filled 'get-on-down' parties and weekly cabaret and burlesque showcases. The ground floor Music Hall ensures residents are kept entertained.
Established in 1996 in EC1 London as a family run business, we opened our first American style diner specialising in premium quality milkshakes. We pioneered the UK market with a magnificent range of milkshakes containing, chocolate bars, cakes and a wide range of sweets.
We opened new sites in Hampstead, Gants Hill, Bayswater, Great Portland Street and went beyond London opening in Leicester and Star City Birmingham.
Our passion for quality and authenticity of products focused on our food and when we opened our very own highly accredited central kitchen in 2009. Influenced by the New York style of food our research and development team, created all our homemade recipes, adapting them for the UK market. Each sauce and marinade used in Tinseltown is made to our own unique recipes.
Going direct to source (gate to plate) for our meats we now mature (age), cut, marinade and cure all our products. Our unique recipes are always made from the freshest possible ingredients.
We are proud to hand make a truly sensational New York style Beef Burger from 100% Halal Beef that tastes just like those found in New York City.
We produce many other products like our Chicago Hot Dogs, Chicken-Zilla, Lamb Chops Cajun Chicken and not forgetting our delicious New York style Buffalo wings.
The owners wanted to create a friendly, welcoming place where a smile goes a long way!
It's about exploring the wonderful foods from around the globe and opening our ears to music from around the world.
Giraffes are so tall they see a different view of the world. we LOVE fresh ideas.
Giraffe is operated by the original founders Juliette and Russel Joffe and Andrew Jacobs who all have an active role in the day to day management of the business.
Make sure you try one of their Guerilla Burgers
Centrally located and just 2 minutes from Piccadilly Circus, Rainforest Cafe is a unique and vibrant restaurant bringing together the sights and sounds of the jungle.
With a collection of moving wildlife animatronics, waterfalls and a herd of trumpeting elephants, we even have a thunder and lightening storm every 29 minutes, there's no where else quite like it in the West End.
London's largest family restaurant is great for all the family and open daily, with a diverse and exciting menu.
There's more to us than big bold flavors and dazzling smiles. In every T.G.I. Friday's®, there's a reason behind pretty much everything you see. Here are a few of our favorite things that remind us of all the good times.
SEEMED LIKE A GOOD IDEA AT THE TIME
In 1965, T.G.I. founder Alan Stillman figured the bar scene of skyscraper city needed a shake up. So he created a cool new singles bar! One week later, the New York police were called in to control the crowds, as hordes of young people flocked to the city's coolest new venue.
Whether celebrating an eighth birthday, an eighteenth or even an eightieth, kids of absolutely any age find Candy Cakes confections make the sweetest treat for family and friends to share. Our London bakers craft kids cakes to suit the theme of any birthday party, with a range of adorable designs from footballers to flowers, from farm animals to funhouse clowns! We also make speciality photo cakes printed in fully edible inks, crafted with the greatest care and delivered speedily to your door from any of our London outlets.
Some other cool places worth checking out.